Pisanje za veb počinje pisanjem naslova.
On ne mora odmah da bude odličan, čak ne morate odmah da budete 100% zadovoljni. Ali, naslov mora odmah da kaže o čemu je reč u tekstu. Kasnije, kada tekst završite, nakon što ste se nekoliko puta pogubili i vraćali na temu bacajući pogled na svoj naslov, možete ga menjati po sledećim principima:
Ključne reči stavite na početak naslova.

Kraće reči stavite na početak naslova.

Brojeve, ako su vam potrebni, stavite na početak naslova.
Ovim sitnim smicalicama ćete pomoći sebi da bude koncizni i tačni, ali i svom čitaocu: privući ćete mu pažnju i, što je još važnije, zadržati je.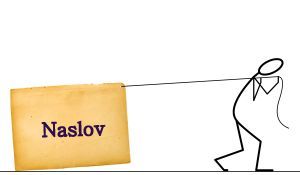 Kako i zašto bi to bilo tako? E, pa, ako je sadržaj kralj, onda je naslov kraljica.
1. Ako ključne reči stavite odmah na početak,
obezbedićete da vaš naslov bude skeniran. Budući da se na Netu prvo skenira, a tek onda, ako je zanimljivo, čita, vaše prve reči – relevantne za čoveka – obezbediće vam da od prolaznika napravite svog gosta. Imajte na umu i da se skeniranje na SERP-u dešava u prostoru "zlatnog trougla" (Golden triangle), a da će u gostima na vašoj stranici taj proces ličiti na kretanje očiju po F matrici  (F-pattern). Na oba mesta i u oba slučaja važno je ono što se nalazi na početku, levo, gore.
2. Ako kraće reči stavite na početak naslova,
sigurno će više reči biti skenirano. Ne samo zato što se sve dešava u sekundama, već pre svega zato što je ponašanje prema sadržaju sličnije skeniranju nego čitanju, kraće reči će biti lakše skenirane i biće na taj način skenirano više vaših reči. A za to smo se, valjda i borili, drugovi i drugarice. Različite studije pokazuju da se najčešće skeniraju prve dve reči iz naslova. Međutim, ukoliko su one kraće, šansa da se skeniraju još dve naredne reči, duplo se povećava. Samim tim, smisao koji ste želeli da plasirate, lakše će usvojiti vaš čitalac.
3. Brojevi na početku naslova, pisani numerički,
još više će privući pažnju i obezbediti da se pročita više prvih reči iz vašeg naslova, ako ne i ceo. Veb je krcat naslovima koji počinju sa 5 tips, 10 best, 3 worst. Ne mislite valjda da je to zato što kopirajteri ne znaju da pravopis podrazumeva da se brojevi do 9 pišu slovima, a dvocifreni i nadalje – numerički? NE! Nego znaju da pisanje za novine i za veb podrazumeva dve različite tehnike, jer su tehnike čitanja ova dva medija različite.
***
I, ne, stvarno: ne brinite. Pisati nije problem. Jedino je malecki problem kako pisanjem izraziti ono što mislite.
Ako ne ide, a važno vam je za posao, javite se nama. Ako ne ide, a pišete za svoju dušu, ne sekirajte se: sve je to pitanje vežbe i strasti.
***
Povezani ili slični tekstovi: