Dobar i relevantan kopirajting vašeg veb-sadržaja kojim ste mislili pre svega na to kako privući kupce, podići će posetu vašem sajtu a samim tim i povećati prodaju u vašoj onlajn prodavnici.
Međutim, osim samog sadržaja teksta kojim želite  da privučete pažnju posetilaca, važno je i da se  ključne reči i fraze koje koristite pojave u što više skladno poređanih gramatičkih oblika.
Stavite se u kožu sopstvenog kupca. Ako ste neko ko će kupiti neki turistički aranžman za skijanje, pokušajte da pronađete sve fraze kojima biste kao strasni skijaš pristupili pretraživanju Interneta i pronašli baš vaš sajt na kojem prodajete skijanje u evropskim ski-centrima. Da li tražite porodično skijanje? Ili staze za napredne skijaše? Da li želite apartman, sobu ili polupansion u hotelu na stazi? Proverite uz pomoć ovih pitanja da vidite koja ključna reč ili fraza se traži u pretraživačima.
Budite sopstvena konkurencija. Proverite šta radi vaša konkurencija i to ona koja vam je među prvima na rezultatima pretraživača na vaše ključne reči. Kako izgleda kopirajting njihovog veb-sadržaja? Koje su najčešće fraze koje se pojavljuju na "čudesnom točku" (wonder wheel, pogledajte sliku dole) izvedene iz vaših ključnih reči? Koristite wonder wheel kao pomoćnu alatku.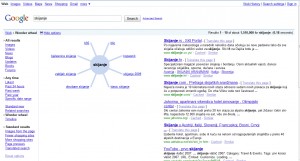 Koristite sinonime i akronime. Da izbegnete dosadu kod svog posetioca, zamenite ponekad svoje odabrane ključne reči nekim sinonimom koji je relevantan, koji manje koristi konkurencija a znate da će ga neko potencijalno tražiti. Ili, ukoliko želite da prodate skijanje u Evropskoj uniji, ne ustežite se da pomenete da nam za EU više nisu potrebne vize.
Korekturne greške koristite samo u metatagovima ključnih reči. Moj najčešći tipo je "kopirajtnig" i znam da tu ima logike, posebno kod onih koji kucaju s deset prstiju a dominantna im je leva hemisfera mozga, pa tu grešku stavljam u meta-odeljak. Google će ignorisati vaše ključne reči u meta tekstu, ali Yahoo će ih uzeti u obzir.
Konačno, pogledajte  i prebrojte u koliko gramatičkih varijeteta se u ovom tekstu pojavljuje fraza "ključne reči" (keywords), uključujući naslov?
Da li vas je to smorilo tokom čitanja ovog teksta?
E, pa o tome govorimo.